18th Feb 2021
Recycled cross-linked closed-cell polyethylene for base infrastructure, roof gardens and outside playgrounds
Astroturf has seen a rise in popularity over recent years with many looking for a low maintenance alternative to grass, without losing a lush green view in the way that patio and decking so often does. We've been working alongside an astroturf business to create sustainable drainage pads from recycled astroturf and recycled cross-linked closed-cell polyethylene.
In the light of the pandemic, many have found themselves seeking green space, especially those living in high rise buildings and apartments with no access to a garden. Balconies and roof gardens have become a common area for cross-linked foam solutions to create a green space in the urban environment. It makes a change from the interior of the home and provides a healthier living space and has a positive impact on mental health.
Our recycled cross-linked closed cell polyethylene has a high resistance to wear and tear, a pleasant texture and is available in different densities and colours. Its high resistance makes it especially durable and will endure tougher weather conditions.
This makes the combined use of synthetic polypropylene (Astroturf) and cross-linked closed cell polyethylene perfect for:

Playgrounds and play areas
Synthetic polypropylene is especially soft to the touch and as closed-cell polyethylene has excellent shock absorption, the protective shock pad underlay makes play spaces safer and reduces injury.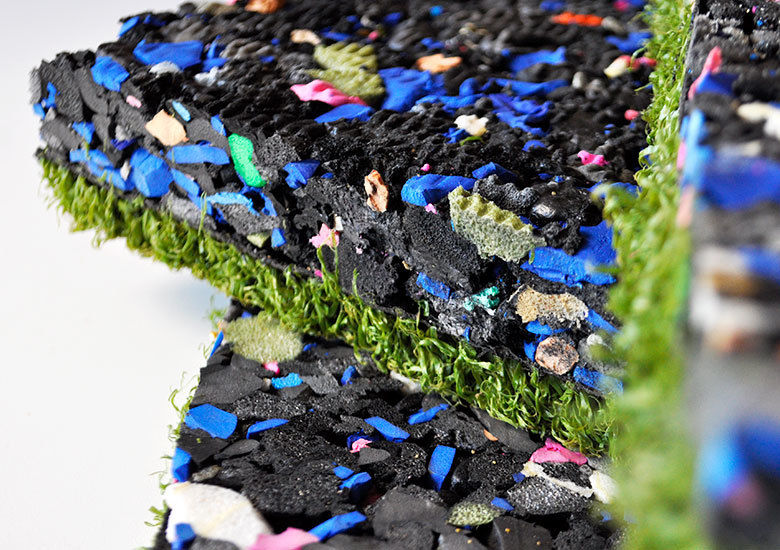 Rooftop gardens, patios and balconies
As well as being highly durable, the cross-linked formation of closed-cell polyethylene has been designed to be environmentally friendly and ideal for energy absorption, insulation and to aid drainage. Not only does the recycled combination of Astroturf and closed-cell polyethylene look great - it's sustainable, easily maintained, long-lasting and makes short work of rainy spells by absorbing and draining the water by slow release.
The choice to opt for a green roof system is proved to last longer than regular roofing options. Cross-linked closed-cell polyethylene protects roofs from UV radiation and the environmental effects of materials when used outdoors, so when it comes to fluctuation in temperature - in the UK especially - green roofs won't deteriorate.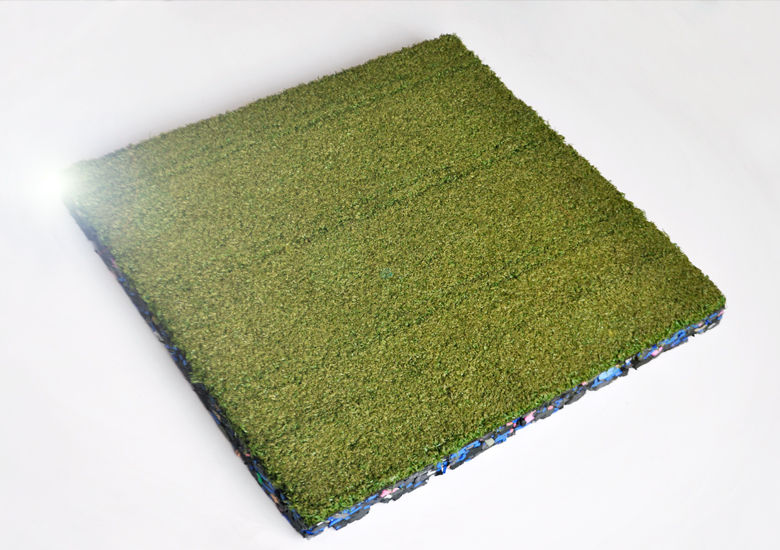 Sport and leisure facilities
Suitable for both indoor and outdoor facilities, the closed-cell polyethylene drainage pads come in varying sizes. The most common sizes of the underlay are 8mm, 12.5mm and 25mm thick and all tiles can be bespoke and cut to size. That allows for varying levels of terrain depending on what a leisure facility needs. The hard-wearing nature of both recycled products means that they're built to last, even in the most demanding conditions and the superb shock absorbency of cross-linked closed-cell polyethylene makes for a great option for impact sports.
Leisure activities
Our drainage pads are often used amongst golfers for a suitable patch to tee off from. They're especially lightweight, which makes them easily transportable and are a great option for the range. They're also popular amongst horse riders for use in stables.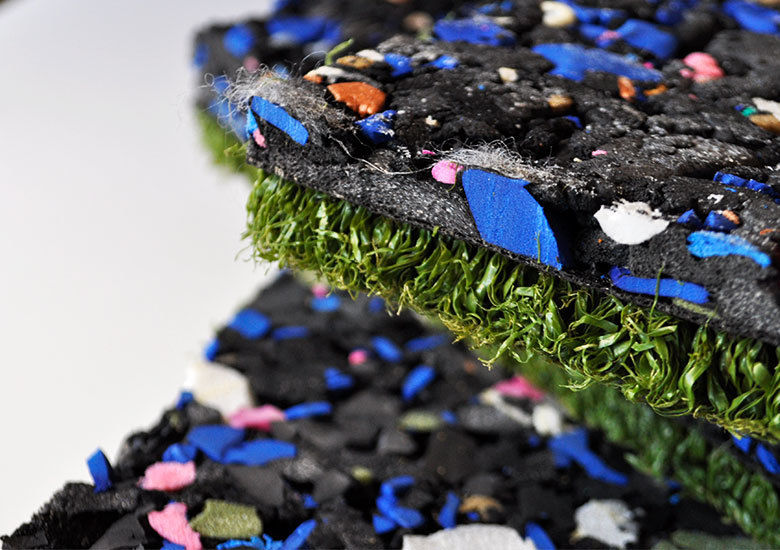 Key benefits of recycled cross-linked closed-cell polyethylene:
Lightweight substitute for gravel
Environmentally friendly
Ideal for energy and shock absorption
Offers great insulation
Provides drainage against wet weather conditions
Protects against UV
Durable and hard-wearing
Available in different densities and colours
Pleasant, soft texture
Can be cut to size
"We've seen a big demand from people looking for ways to create green spaces for their homes, which are more suitable for families, as well as creating roof gardens or adding greenery to the floors of balconies. The closed cell polyethylene and Astroturf combo is a lasting solution and it makes a big difference to someone's well being, when they're restricted to their homes."
No matter what you need to achieve, our expert team can work with you to design and develop products and components, choosing and using the very best materials for the job. Get in touch to talk to us about your latest challenge and our unbiased team will be on hand to offer advice about the best product options for your project.