16th Aug 2021
Bespoke Laser Engraved Polyethylene Foam Tool Tray Inserts
We recently worked with a company that needed project support with a tool tray for their end customer, Samsonite. As a big international brand in luggage manufacturer and retail — known for their quality and robust products — the tool tray inserts needed to equal that characteristic quality consumers expect from Samsonite products.
Samsonite luggage is known to last for decades due to the amount of research and development they put into all of the material used in their products. That's why we recommended our ZOUCH eFoam IXPE 30SD product to our customer, which is a physically cross-linked closed-cell static dissipative Polyethylene foam.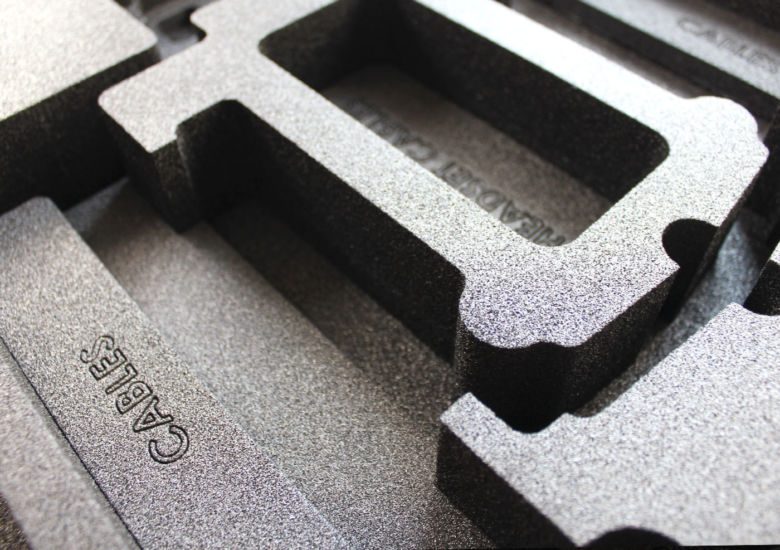 Our unique formulation of this grade typically overcomes the problems associated with a Polyethylene foam suitable for use in packaging and handling ESD (Electrostatic Discharge) sensitive equipment. The Static Dissipative range of eFoam combines all the general properties of a typical Polyethylene foam but has modifications in place including surface treatment with chemicals, chemical additives such as amides and amines, as well as conductive fillers which give an overall longer lasting resistivity and performance.
It's mainly used for the electronic industry as it's a static-safe foam, minimising friction and material charging to keep secure components safe from the build-up and discharge of static energy.
Shock absorbent
The independent, closed-cell structure of our IXPE foam makes it especially compact and robust, which means that it doesn't crumble or go brittle over time. It can withstand handling well and is shock absorbent, making it a choice material for transit.
Waterproof
The polyethylene closed-cell foam structure makes our ZOUCH eFoam waterproof and keeps internal products safe from any dampness and condensation encountered whilst in storage or during transit.
Mould and stain resistant
Our IXPE foam has been irradiated by a high energy electron beam, meaning the foam is protected and defends against the growth of mould and bacteria, as well as not transferring colour to the packaged product, and is easy to clean and sanitise.
High strength to weight ratio
Our eFoam is lightweight but incredibly strong to combat any wear and tear. It's especially good for transit, keeping delivery and shipping costs low due to its weight compared to other foam.
Cushioning
The robust, solid nature of closed-foam offers excellent cushioning protection for products and combined with custom cutouts for each item, it lends itself to very secure packaging.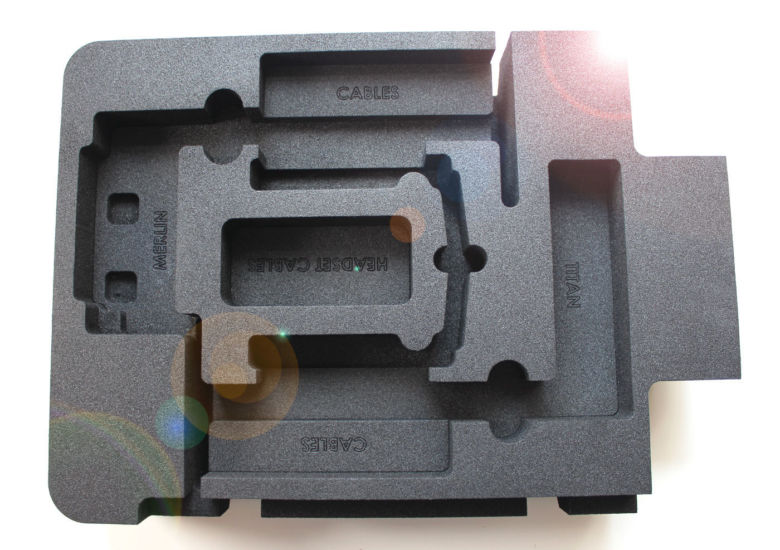 Other key benefits of polyethylene foam:
Thermally insulated
Hypoallergenic
Cost-effective
Odourless
Low shred
When it came to the Samsonite tool trays, they needed to be customised for specific tools and component trays and with our ability to rout, waterjet cut, print and laser engrave, we were able to combine an excellent way of protecting the equipment and offer a slick bespoke presentation of the product too.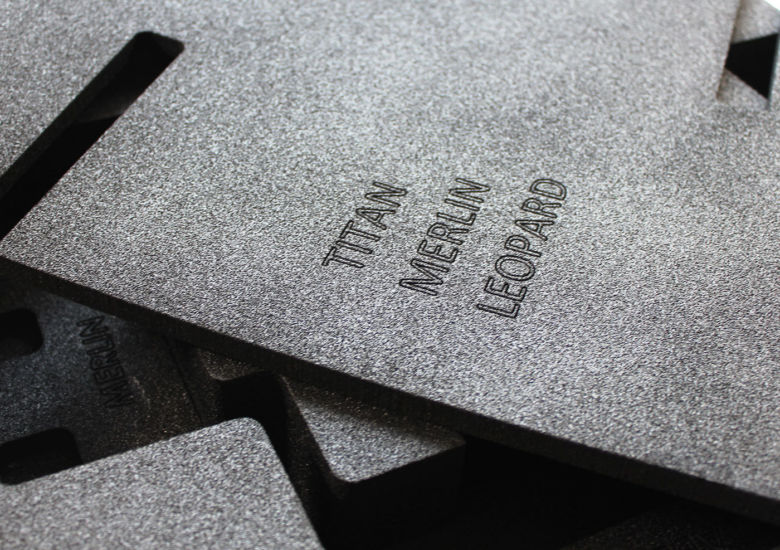 At Zouch, when it comes to packaging, protecting and presenting your products, we take a creative approach. Our in-depth understanding of the properties and potential of polyethylene foam means we can develop almost any design, no matter how complex into a lightweight, durable, bespoke piece that really performs for your brand and product.
Whatever you'd like to achieve, our expert team can work with you to design and develop products and components, choosing and using the very best materials for the job. We can split, saw, rout, die-cut, water-jet cut, butt-weld, laminate, adhere, thermoform or compression mould all of our foams to create even the most complex shapes and sizes, so get in touch about your latest challenge.