13th Mar 2019
Open Cell Foam for Bespoke Shaped Bath, Body and Makeup Applicator Sponges
In the last decade, MUAs and beauty professionals have been redefining make up application. The right texture is paramount when it comes to ensuring a smooth and flawless finish, and for a beauty conscious world, the consistency and surface of an applicator can truly make a difference in the process. That's why foam has become more popular within the beauty industry for the application of makeup.
Open cell foam technology has seen many advances and whilst it's cost effective on mass production, it also has a lot of benefits to the user which means that despite being low cost, it's also high in quality.
Open cell foam
Open cell foam is breathable, soft and moisture absorbent. If the foam is sourced correctly, it is hypoallergenic and exclusively designed for contact with the skin. It is called open cell because its structure allows for air to pass through it and for liquid to be absorbed - that allows for the product or water to slowly be released as the foam is worked against skin.
Breathable and soft
The foam is low density and gives a soft, sponge like appearance. It's breathable and is comfortable when used against skin, unlike makeup brushes which are prone to excess foundation, leave-behind brush hairs and visible strokes when not blended correctly.
Moisture absorbent
The nature of open cell foam means that it easily absorbs moisture. Whilst this might not seem like a benefit due to the foam soaking up foundation, in actuality, for a flawless finish most make up artists dampen a sponge prior to application for a smoother texture and easier release when applying.
Hygienic

Most manufacturers of open cell foam for cosmetic use will ensure that the foam is hypoallergenic and exclusively designed for contact with the skin. Open cell foams can be easily cleaned and due to the cost effective nature of production, they're disposable.
Used for applicators for foundation, self tan and highlighters, as well as for cosmetic sponges like cleaning cellulose or those used for the body when bathing.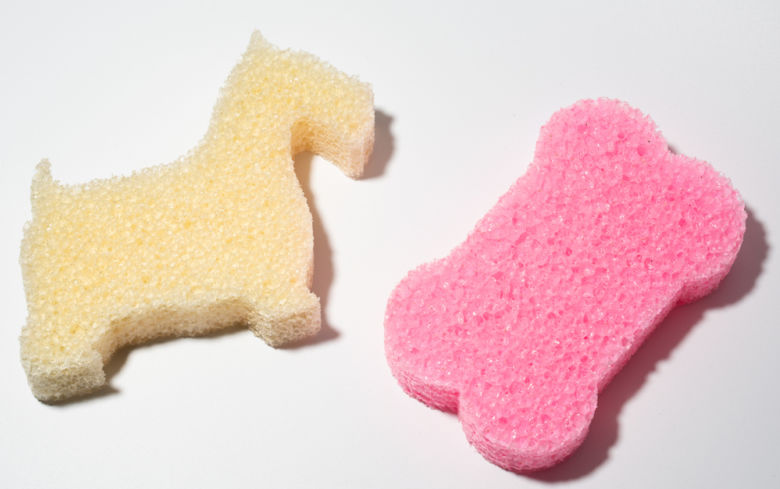 Bath and Body
We're able to create bespoke shapes with our open cell foam to delight and attract consumers with items that they find relatable and appealing to themselves or a gift for another. Pictured above, we've created open cell bath sponges in the shape of a Scotty dog and bone for the latest line used by one of our clients.
Our open cell foams come in grey, white or black as standard, but can be custom made in beige, blue, yellow, green, violet and red, as well as marbling effects as seen below in our triangular cosmetic sponges.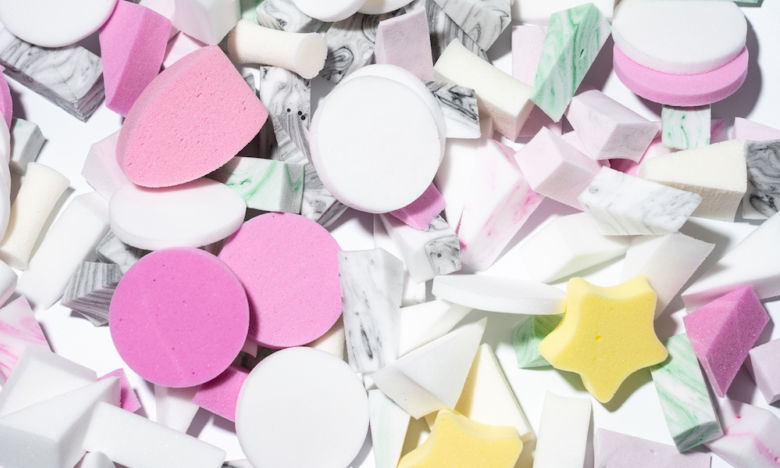 Makeup application sponges
Foam is a more functional option compared to brushes and the ability to shape and mould the material, means that creative design doesn't have to be compromised. Originally starting with the triangular wedge to the teardrop, designers have developed more and more options based on the needs and requirements of their industry, with several new shapes that offer a greater experience and finish for the user. Read more about our open cell foam applicators shapes..
These open cell spongers aren't just for consumers - they can be used for professional application and cut and formed to any required shape, for instance, if a certain angle is required to meet a design for special effects makeup in film and television or even large sponges for set design.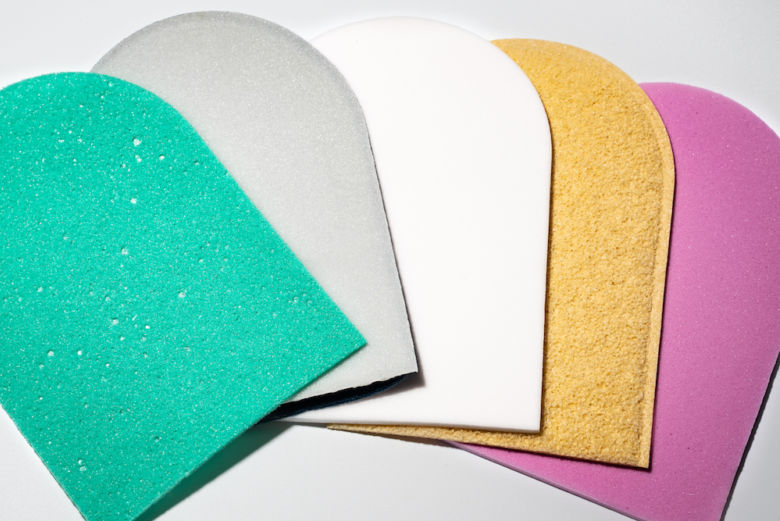 Tanning mitts
Tanning mitts have become increasingly popular when applying self tan for a bronzed and sunkissed look. A mitt leaves skin with a smooth and even finish and that's largely down to the composition of the sponge used - open cell foam.
The open cells absorb self tan liquid whilst slowly releasing it as the wearer works the mitt against the skin in circular motions. It's much more efficient to use a mitt due to its larger surface area (when compared to a hand) and the fact it doesn't leave self tan liquid residue on skin causing it to stain. The foam can simply be cleaned with warm water and soap too - making it a great material for at home use for beauty product consumers.
Here at Zouch, our highly advanced technical open cell foams are trusted by health professionals and beauty brands right across the world. They deliver smart, specialist benefits at a competitive price, while we deliver a customised, consultative service, fully focused on what you need – from the most effective materials on the market to a bespoke product created just for you and your business.
Our bespoke, problem-solving approach has secured exciting projects with award-winning global brands, unlocking their potential and empowering them to grow creatively and strategically.
We offer environmentally friendly, hypoallergenic, quality foam products to suit all sectors of the cosmetic market. Get in touch with our expert team to discuss your specific application and we will support you from prototype to customer-ready product.